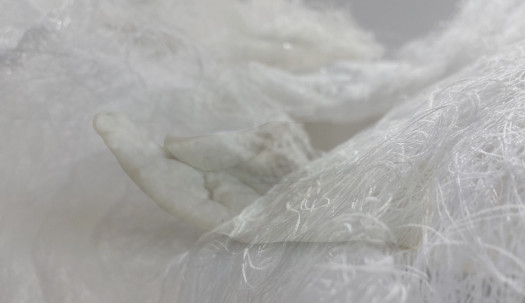 Haleh Chinikar & Mobina Mohammadi Tabar
Carte Blanche Comment peut-on être persan?
Haleh Chinikar / Mobina Mohammadi Tabar
Inner and outer instants
01.02 > 25.02.23 Wed > Sat 12:00 > 19:00 Free entrance
Vernissage 01.02.22 18:00 > 21:00 Free entrance - reservation required
In this exhibition, visual artists Haleh Chinikar and Mobina Mohammadi Tabar join forces to question the notion of care and memory in relation to the human body.
Visual artist, poet and performer Haleh Chinikar (°1986 Rasht, Iran) has lived and worked in Brussels since 2007. The body, memory, language and textiles are the pillars of her creations. In November 2021, her poetry collection Où est maison? was published by Éditions La place. She is one of the co-founders of M-A collective, a collective of Iranian women artists based in Belgium that aims to raise awareness about the Iranian revolution.
Mobina Mohammadi Tabar's installations, sculptures, videos and performances explore the social and mental relationship between the body and the culture of her homeland. Born in 1989 in Tehran, she studied sculpture at Tehran's Art University and sculpture and curatorial studies at La Cambre and KASK. She recently graduated magna cum laude from KASK - Autonomous Design, basing her research on the different narratives that emerge from the same event, both in political and cultural space. She is interested in the mechanisms of manipulation, transformation and interpretation of sharing and care.
Comment peut-on être persan? is a Belgian-Iranian collective that operates from Brussels since 2017. Its aim is making contemporary creations from Iran visible, beyond stereotypes and orientalist interpretations. For Moussem Cities Tehran, Moussem invites the collective to present a programme at the Moussem Studios that puts the spotlight on a young generation of artists that are associated with the Iranian capital.