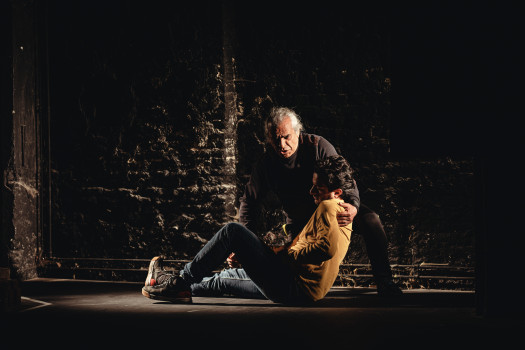 A in the role of B when C didn't make it - EHSAN HEMAT / MOUSSEM
Première
24.02 19:30 Introduction by Amin Zamani
25.02 + Closing Party
A in the role of B, when C didn't make it exposes a hidden network of relationships between the performers. When the foursome tries to chart the historical and professional consequences of their mutual connections on stage, they encounter a deep-rooted disconnection. Based on wanderings through the Iranian theatre landscape, the men – a dancer, an actor, a writer and a director – share the stage: the latter keeps them together, despite their differences.
Ehsan Hemat is a dancer and choreographer living and working in Brussels. His dance career started in 2000 with the piece Dance on Glasses by Amir Reza Koohestani. Since then, he has worked with several artists, including William Forsythe, Anke Blonde, Felix van Groeningen, David Zambrano, Goele van Dijk, Lance Gries, Mokhallad Rasem and Eric Kaiel. He has taught at the Fontys Academy (Tilburg), LCDS/The place (London), ICCD (Tehran), CCDC (Cairo), Dance academy of Bahia Blanca (Argentina), Wisper (Belgium). As a creator, Ehsan made his debut with I put a spell on you, which is an ambitious exploration of the effects of discipline and control on the human body.
On 24 February, the performance will be preceded by an introduction to the history, development and actuality of contemporary theatre in Iran by Amin Zamani (ULB).
concept & direction: Ehsan Hemat
in collaboration with Keyvan Sarreshteh en Ali Asghar Dashti
performance: Asghar Hemmat, Ehsan Hemat, Ali Asghar Dashti, Keyvan Sarreshteh.
dramaturgy: Zahra Mohseni
video: Julie De Clercq
light design: Marco Bertozzi
sound: Roeland Luyten
Images: Michiel Devijver
production: Moussem Nomadic Arts Centre
co-production: KVS, C-Takt, NTGent
developed with the support of laGeste