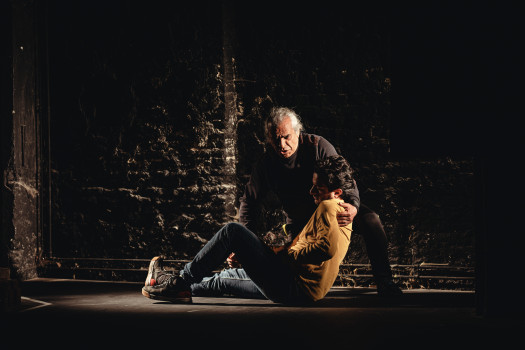 A in the role of B when C didn't make it - EHSAN HEMAT / MOUSSEM
Première
24.02 19:30 Introduction par Amin Zamani
25.02 + Closing Party
A in the role of B when C didn't make it met au jour un réseau caché de relations entre les performeurs. Lorsque le quatuor tente d'évaluer les conséquences historiques et professionnelles de leurs liens sur scène, ils se heurtent à une déconnexion profonde. À la faveur de déambulations dans le paysage théâtral iranien, les hommes – un danseur, un acteur, un écrivain et un metteur en scène – partagent la scène : c'est ce qui maintient leur union, malgré toutes les déconnexions.
Ehsan Hemat est danseur et chorégraphe. Il vit et travaille à Bruxelles. San carrière a commencé en 2000 avec le spectacle Dance on Glasses d'Amir Reza Koohestani. Depuis, il a travaillé avec plusieurs artistes, dont William Forsythe, Anke Blonde, Felix van Groeningen, David Zambrano, Goele van Dijk, Lance Gries, Mokhallad Rasem, Eric Kaiel. Il a enseigné à la Fontys Academy (Tilburg), LCDS/The place (Londres), ICCD (Téhéran), CCDC (Le Caire), Dance Academy of Bahia Blanca (Argentine), Wisper (Belgique). Son premier spectacle en tant que créateur, I put a spell on you, est une exploration ambitieuse des effets de la discipline et du contrôle sur le corps humain.
Le 24 février, le spectacle sera précédée d'une introduction à l'histoire, au développement et à l'actualité du théâtre contemporain en Iran par Amin Zamani (ULB).
concept & direction: Ehsan Hemat
in collaboration with Keyvan Sarreshteh en Ali Asghar Dashti
performance: Asghar Hemmat, Ehsan Hemat, Ali Asghar Dashti, Keyvan Sarreshteh.
dramaturgie: Zahra Mohseni
video: Julie De Clercq
light design: Marco Bertozzi
sound: Roeland Luyten
Images: Michiel Devijver
production: Moussem Nomadic Arts Centre
co-production: KVS, C-Takt, NTGent
developed with the support of laGeste