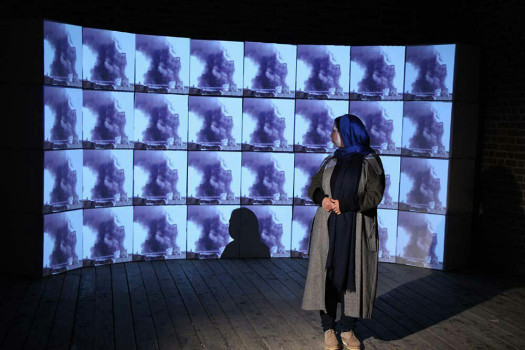 Kaaitheater Studios

Kaaitheater Studios
Performance Parcours: Naghmeh Manavi + Masoumeh Jalalieh + Kimia Khatibzadeh + Ehsan Shayanfard
Naghmeh Manavi - The Possible
In haar werk richt theatermaker en performer Naghmeh Manavi de blik op macht in alle vormen van menselijke relaties. Zo onderzoekt ze in The Possible de hiërarchieën in opvoedingsmethoden, en legt ze verbanden met machtsverhoudingen op sociaal en politiek niveau. Centraal staat het idee van reproductie, van handelingen en narratieven om macht en controle uit te oefenen.
Masoumeh Jalalieh - Carpet of Time
Carpet of Time van choreograaf, performer en beeldend kunstenaar Masoumeh Jalalieh is een experiment om muziek te visualiseren en dans hoorbaar te maken. De basis is een algoritme van de compositie. Elke performer volgt een instrument wat resulteert in een ruimtelijk en tijdelijk patroon, waardoor steeds nieuwe composities van minimalistische bewegingen ontstaan.
Kimia Khatibzadeh - Plus - Minus Seven
Psycholoog George A. Miller kwam tot de bevinding dat het korte termijn geheugen gemiddeld zeven objecten kan opslaan. Dit is het vertrekpunt van de documentaire voorstelling van Kimia Khatibzadeh. Ze selecteerde zeven persoonlijke en zeven maatschappelijke memorabele gebeurtenissen in de tijdspanne tussen haar drieëntwintigste en vierentwintigste verjaardag.
Ehsan Shayanfard - May I Show You?
Theatermaker Ehsan Shayanfard vertrekt voor deze voorstelling van een aantal recente ingrijpende gebeurtenissen in zijn bestaan en in zijn omgeving. May I show you? kan gelezen worden als een zelfportret maar vertelt ook over de wereld rondom de maker, over zijn land, zijn thuis, zijn buurt en stad.
The Possible
Written and performed by Naghmeh Manavi
Photos and videos: Mahoor Mirshakak and Ehsan Behmanesh
Carpet of Time
Choreography: Masoumeh Jalalieh
Dance: Parvin Saljoughi, Masoumeh Jalalieh, Nazanin Mehraein
Visuals: Arman Moghadam
Music: Nima Artkar Rowshan & Payman Abdali
Creative developer & visual artist: Majid Kiamehr
Support: eindorf (Vienna)
Special thanks to : Soolmaz Shoaie & Sina Shoaie
Plus - Minus Seven
Creator and Performer: Kimia Khatibzadeh
Consultant and Assistant Director: Maral Mohammadi
Video Mapping and Stage Designer: Kimia Motamedi
Video Editor: Khashayar Rahimi
Graphic Designer: Meysam Khavari
May I Show You?
By Ehsan Shayanfard
Outside eyes: Ali Moini, Julien Bruneau
Eyes from Iran:Tina Younestabar, Hamid Salehi, Foroogh Jalilian
Production: Selon L'heure Cie. Paris
Executive production: Latitudes Prod, Lille
Coproduction: Théâtre Antigone, Courtrai
"May I show you?" has been développed in the frame of Mentorat, support for emerging artists from Iran by Selon l'Heure Cie.