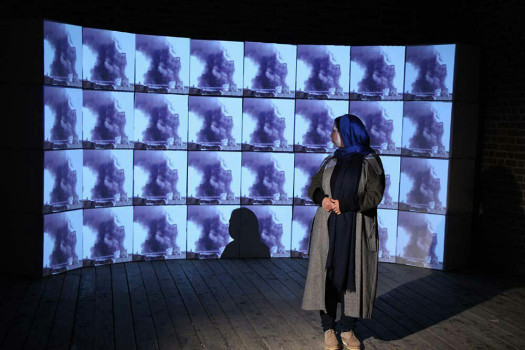 Kaaitheater Studios

Kaaitheater Studios
Performance Parcours: Naghmeh Manavi + Masoumeh Jalalieh + Kimia Khatibzadeh + Ehsan Shayanfard
Naghmeh Manavi - The Possible
The possible is a lecture performance trying to research and reveal connections between power relations in parenting and overpowering in social levels, Naghmeh Manavi uses her research on genetics, neuroscience, and her observations on her own life to declare her views on reproduction.
Being made of others both genetically and socially, a character introjects and internalizes the acts of anyone she/he has been watching during life.
This performance is trying to use the performer as an object to study and uses watching and being watched as an important tool of power.
Masoumeh Jalalieh - Carpet of Time
Carpet of Time by choreographer, performer and visual artist Masoumeh Jalalieh is an experiment to visualise music and make dance audible. The basis is an algorithm of the composition. Each performer follows an instrument, which results in a spatial and temporal pattern that constantly creates new compositions of minimalistic movements.
Kimia Khatibzadeh - Plus - Minus Seven
Psychologist George A. Miller found that short-term memory can store an average of seven objects. This is the starting point of Kimia Khatibzadeh's documentary presentation. She selected seven personal and seven socially memorable events from the span between her 23rd and 24th birthday.
Ehsan Shayanfard - May I Show You?
For this performance, theatre maker Ehsan Shayanfard departs from a number of recent major events in his existence and environment. May I Show You? can be read as a self-portrait, but also tells us about the world around the maker, about his country, his home, his neighbourhood and his city.
The Possible
Written and performed by Naghmeh Manavi
Photos and videos: Mahoor Mirshakak and Ehsan Behmanesh
Carpet of Time
Carpet of Time
Choreography: Masoumeh Jalalieh
Dance: Parvin Saljoughi, Nazanin Mehraein, Masoumeh Jalalieh
Music: Nima Artkar Rowshan & Payman Abdali
Creative developer & visual artist: Nazanin Mehraein
Support: eindorf (Vienna)
Special thanks to : Soolmaz Shoaie, Sina Shoaie, Arman Moghadam, Ines Minten, Daniel Zimmerman, Verena Frauenlob
Plus - Minus Seven
Creator and Performer: Kimia Khatibzadeh
Consultant and Assistant Director: Maral Mohammadi
Video Mapping and Stage Designer: Kimia Motamedi
Video Editor: Khashayar Rahimi
Graphic Designer: Meysam Khavari
May I Show You?
By Ehsan Shayanfard
Outside eyes: Ali Moini, Julien Bruneau
Eyes from Iran:Tina Younestabar, Hamid Salehi, Foroogh Jalilian
Production: Selon L'heure Cie. Paris
Executive production: Latitudes Prod, Lille
Coproduction: Théâtre Antigone, Courtrai
"May I show you?" has been développed in the frame of Mentorat, support for emerging artists from Iran by Selon l'Heure Cie.